The GB Team consisting of Roy Kimberley, Craig Welsh, Danny Luton and captain Tony Southern, arrived in Slovenia, with high hopes of winning a hatful of medals at these prestigious championships.  Matt Duffy had to pull out of the event because of illness.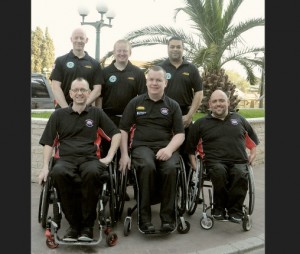 The team came home with 3 medals, a silver and bronze for Southern and a silver for Kimberley, but Luton and Welsh were ultimately left disappointed as neither made the podium.
Fred Dinsmore from Ireland who also plays occasionally on the BWPPA tour, had his best ever event as he took home both the 8 ball and 9 ball gold medals. 
High quality matches and dramatic decisions characterize the wheelchair competition, with many outstanding players, but the men to beat it seemed was multiple gold medalist Jouni Tahti (Finland), and current world 9 ball champion Henrik Larsson who started as favorites, but neither went home with a gold medal !!, for the first time in over 10 years.
10-ball
In the 10 ball division, there was the first of many battle of the Brits, with GB and Ireland, being drawn against each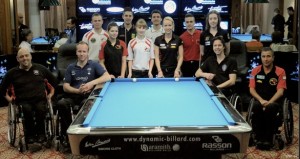 other on many occasions throughout the 10 days, Kimberley whitewashed Welsh 6-0, the same score Southern beat Kokoszka (Poland), Luton lost 6-5 to Brajkovic (Slovenia), Dinsmore also had a 6-0 win.  Luton and Welsh went out in the losers round 2 and Dinsmore went out to Larsson in losers round 3.
Southern and Kimberley went into the winners qualifying round, Southern losing 6-4 to Deklerck (Belgium), then Southern lost to Larsson to go out in 5th Place.
Kimberley went through, with a 6-5 win over Volkmer (Germany).  
In the semi finals Kimberley beat Brajkovic, whilst Deklerck edged out Larsson 6-5.

In the final, Kimberley just missed out on a 3rd EPC gold medal losing to Deklerck  6-4.  
8-Ball
In the 8 ball Division, in round 1 Southern, Welsh, Luton and Dinsmore all won, but Kimberley lost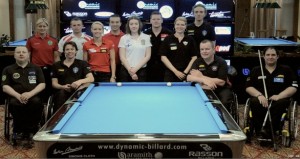 6-0 to Larsson, but Kimberley recovered to make the losers qualifiers but lost again to Larsson this time 5-3.  In the middle of the 7th rack Kimberley's phone rang (which he thought was switch off).  Larsson won that rack then the referee came over and informed Kimberley that he also has the next rack taken of him due to his phone ringing, which lost him the match.
Southern then thumped Dinsmore 5-1 in the next round, in the first of 4 meetings, and then had his first ever win over Larsson 5-4 to make the semi final.
Welsh went out in the losers 2nd round, and Kimberley and Luton lost in losers qualifying round.
Southern and Dinsmore met again in the semi final, and this time it was Dinsmore who edged it 5-4 in a titanic battle. Southern had to settle for bronze.  This set up a final with Larsson who took out Tahti 5-4.
Dinsmore gave a battling performance in the final in what is Larsson's favourite discipline, and ran out a 5-3 winner.
9-Ball
Onto the final discipline, 9 ball, and there was time to celebrate again  as Southern and Dinsmore made it to the semi finals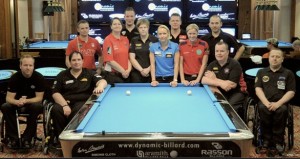 For the 3rd event running, Southern won his first 2 matches to advance to the winners qualifying, and beat Dinsmore 7-4 to guarantee a 2nd medal.
Kimberley won his first match 7-0 against Serbia's Karamatic, but then suffered a shock loss to Brajkovic.  He finally went out of the event loosing to Deklerck.  Luton and Welsh met in the first round, which saw Luton come through a 7-5 winner.
Welsh then lost his next match 7-2 which put him out of the event.  Luton's seconds match saw him pair up against another Brit in Tony Southern,  Tony won this match 7-2, then Danny lost his next match which also put him out of the event.
In the first semi Dinsmore destroyed Brajkovic 7-2, whilst Southern had a career best win over Tahti 7-5 to advance to the final.
In the final, Southern had a nasty kick on the 9  ball in rack 1, and was soon 3-1 down, but dug in to go 4-2 up.  He had a great chance to make it 5-2, but missed a simple run out, and Dinsmore pounced.  At 6-5 down Southern was again in the balls and had a great chance to go hill-hill, but played a poor positional shot, which allowed Dinsmore the chance he was waiting for, and he cleared up to take a 2nd Gold medal, becoming the 2013 European 8 & 9-ball champion, Southern was left to reflect on what might have been.
The Dynamic European Championships have drawn a huge amount of media attention throughout the entire 10 days. Many media representatives from TV, radio, print and Internet media have covered the European Championships. The highlight was the live coverage on the web from

www.kozoom.com

. 
To view all of the pictures taken at this years European Championships please click the link below.
Picture gallery of  BWPPA Players