Escape Pool Bar in Barnsley was the venue for the 3rd BWPPA event of the season on 20/21 July 2013.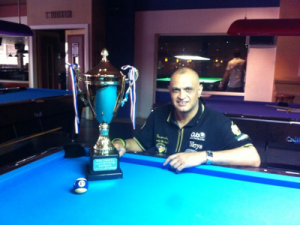 Aslam Abubaker won his first tour event in almost 3 years by beating Roy "The Sandman" Kimberley in the final.  
Abubaker went into the event on the back of some great form on the Total 9 Ball Tour.
Again we had a great turnout as 17 players entered, with Ireland's Fred Dinsmore yet again making the trip, and he had real determination to better his performances in the previous few BWPPA events.
Abubaker got his campaign off to a great start with a 7-3 win over Phil Hendrickson, who was the one to avoid in the first round, as he is a regular top 3-4 ranked player.  
Abubaker's next win was must closer as he beat Dinsmore 7-6 in a battle of the big hitters.
In the next round it was back on familiar ground as he again faced high ranked Phil Hendrickson.  This was a great match which Abubaker took with a 7-5 win and advance to the semi-final where he would meet Tony Southern. 
Southern had beaten John Greensmith 7-3, Frankie Gillen 7-2 and relative newcomer Roger Hales 7-3.  This was a high quality match with both players playing some good pool, however it was Abubaker who advanced into the final with a 7-4 score line.  
In the other half of the draw, Kimberley won his first two matches to advance to the quarter finals, where he would meet the player he most wanted to avoid, Dinsmore, who had come through on the losers side.  In a good match Kimberley won 7-4 to advance to a semi-final against the much improved Craig Welsh who was in his 2nd semi-final in a row, Welsh raced into a 3-0 lead but it was Kimberley who roared back and won 7-3 to book a spot in the final with Abubaker.
In a rather one sided final, with the aid of some good runs Abubaker raced into a 5-1 lead, which Kimberley pulled back to 6-3, but that was the closest he came and Abubaker completed the job with a 7-3 win.
After the final Abubaker said of his win "I would like to thank all the staff at the Escape Pool Bar, we are always made welcome, and we are delighted to be coming back in September. On a personal note obviously I'm really pleased to be playing some good pool again, I have brought my Total 9 Ball form to the BWPPA events. In addition to thanking The Escape Pool Bar, I would like to also thank all the other sponsors of the tour, Gentlemen's Night Out, Simonis Cloths, Riley's Pool Clubs, Talisman Cases, Magic Rack, AB Wallace Trophies, Kamui Tips and Predator Cues, as well as my own personal sponsors.
The Challenge Cup final was won by Hendrickson who beat Hales 5-4.
A video of the main event final is available

here

. Pictures of the event are here in the BWPPA gallery.
Latest

BWPPA Rankings

.
The next event is the Talisman British 10 ball Championships, which will be held at the 'Escape Pool Bar' Barnsley, on the weekend of 28th/29th September 2013.  
The BWPPA are always looking for new members no matter what disability you have, or your level of ability in the sport. To become part of Europe's largest wheelchair American pool tour please visit

www.bwppa.com

, and if you are reading this and know of any players who may be interested please pass this onto them.
We also are always looking to expand the sponsorship side of the tour, so if you or your company would like to become one of our sponsors, please visit 
http://bwppa.com/Contact.html