Escape Pool Bar in Barnsley was the venue for the 4th BWPPA event of the season on 28/29 September 2013.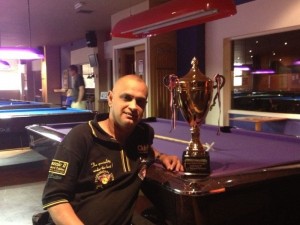 Aslam Abubaker won his 2nd tour event in a row beating Ireland's Fred Dinsmore in the final, and with it became only the 4th player in the history of the tour to take the top spot in the rankings.
Abubaker went into the event as one of 4 or 5 players still in realistic contention for the no.1 spot at the end of the season which not only brings with it its own prestige, but also a lovely Icon 2-7 cue from our generous friends at Predator.
Again we had a good turnout as 15 players entered, although some missed the event through illness and several players who made the event were suffering with colds and coughs !!.  Ireland's Fred Dinsmore again making the trip, and he was one of the ones not well, but still had a good weekend, making the final.
Abubaker got his campaign off to a poor start with a 7-3 loss to Danny Luton, who was the one to avoid in the first round, as he is a regular top 3-4 ranked player.
Abubaker had to battle through the long route on the losers side, first he beat Roger Hales 6-2, then Poland's Leszek Blumczynski 6-3, and then whitewashed John Greensmith 6-0.
In the losers qualifier it was back on familiar ground as he again faced Luton, but it was a different story as Abubaker ran through Luton with a 6-0 win and advance to the semi-final. 
This took Abubaker through to a semi-final with Roy Kimberley.  Kimberley had beaten Greensmith 7-0 and Dinsmore 7-3 after receiving a first round bye as no 1 seed. This was a high quality match with both players playing some good pool, however it was Abubaker who advanced into the final with a 7-6 score line.  
In the other half of the draw, Dinsmore won his first two matches to advance to the winners qualifier where he lost to Kimberley, where he would meet Gary Swift in a titanic match, in an amazing last rack, where Swift on 2 occasions had a chance at what seemed a simple combination on the 10 ball, but it would not drop and Dinsmore took the match 6-5.
In semi-final he faced Tony Southern who had come through 3 matches on the winners side.  In a good match Dinsmore roared into a 6-2 lead, and then the comeback started, 4 racks on the trot and it was hill-hill, and Southern had a glorious chance to tie Dinsmore up with 4 balls left, but left a difficult chance which Dinsmore took to advance to the final.
It looked like it would be a one sided final, as Abubaker took a 3-1 and 6-2 lead, but in a weekend of hill-hill games, Dinsmore dragged himself back into it, and had a great chance in the last rack but over hit his shot on the 9 ball, leaving himself a tricky 10 ball which he missed, and Abubaker calmly doubled the 10 to win the match
5-
After the final Abubaker said of his win "I would like to thank George Vetters and all the staff at the Escape Pool Bar, we are always made welcome, and we are delighted to be coming back in November, as the new permanent venue at Stoke Manderville is not quite ready yet. On a personal note I'm really pleased to be playing well again. 
I would like to also thank all the other sponsors of the tour, Gentlemen's Night Out, Simonis Cloths, Riley's Pool Clubs, Talisman Cases, Magic Rack, AB Wallace Trophies, Kamui Tips and Predator Cues, as well as my own personal sponsors, Club 147, Knight Recruitment and Choices Furniture.
The Challenge Cup final was won by Danny Luton who beat Phil Hendrickson 5-3.
A video of the main event final is available

here

. Pictures of the event are

here

in the BWPPA gallery.
Latest

BWPPA Rankings

.
The next event is the Predator British 9-ball Championships, which will be held at the 'Escape Pool Bar' Barnsley, on the weekend of 23rd/24th November 2013.  
Abubaker and Kimberley are now the only 2 players who can claim top spot, but to do so Kimberley has to finish 2 places above Abubaker at the last event.
The BWPPA are always looking for new members no matter what disability you have, or your level of ability in the sport. To become part of Europe's largest wheelchair American pool tour please visit

www.bwppa.com

, and if you are reading this and know of any players who may be interested please pass this onto them.
We also are always looking to expand the sponsorship side of the tour, so if you or your company would like to become one of our sponsors, please visit 
http://bwppa.com/Contact.html
THE STATS
BWPPA EVENT NO.4 (2013 SEASON)
THE MAIN EVENT
THE SEMI FINALS
Aslam Abubaker 7 : 6
Roy Kimberley
Fred Dinsmore 7 : 6
Tony Southern
THE FINAL
Fred Dinsmore 6 : 7
Aslam Abubaker
THE CHALLENGE CUP 
THE SEMI FINALS
Danny Luton (0) 5 : 3
Frankie Gillen (+2)
John Greensmith (+1) 3 : 5
Phil Hendrickson (0)
THE FINAL
Danny Luton (0)  5 : 3
Phil Hendrickson (0)