The concluding tour stop of Europe's largest wheelchair pool tour was held at the Escape Pool Bar in Barnsley, with the Predator British Wheelchair 9-ball Championshi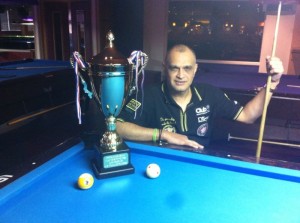 Aslam Abubaker became the only player in the tours history to deny Roy Kimberley top spot on the tour at the end of a season, as he won his third event in a row on tp, which attracted a strong field, including a new player on tour Joe Atherton.  This was the final event for some of the tours players before heading off to the World 9 Ball Championships in South Africa from 7-13 December; see here for more details of that event.
he BWPPA tour by defeating Tony Southern 7-6.  Kimberley went into the event knowing that only finishing 2 places above Abubaker could get him back to the no 1 spot.
In the early rounds there were good wins for Matt Lester, Gary Swift and Nicky Oliver.
Abubaker almost got his campaign off to a poor start after receiving a first round bye, he was in a great match with Swift that swung one way then another, and went to 
hill-hill.  Swift had a great chance to take it but overrun his pot on the 8 ball, to leave the cue ball on the side cushion and a tricky 9 ball, after composing himself he got down on the shot but overcut it, handing the rack to Abubaker, you could see the frustration on Swift's face as he really should have won the match.
Abubaker then had a 7-3 win over Phil Hendrickson, and then faced Swift again in the semi-final, but on this occasion Abubaker flew through the match with a 7-3 win to advance to the final, and ensure his position as no 1.
In the other half of the draw, Southern was on the end of a surprise 7-4 defeat to Poland's Leszek Blumczynski, (who had also beaten Craig Welsh in the first round 7-5) which sent Southern to the losers bracket, where after dispatching Pete Dawson 6-2, he then defeated Hendrickson 6-1 to reach a semi-final with old rival Kimberley, with the winner taking the no 2 ranking spot.
In a high class match, Southern led 4-1 before Kimberley reeled off 4 racks in a ro
w, but it was Southern who kept his nerve to run out a 7-5 winner, booking his place in the final.
Southern and Abubaker were to meet in the final.  Abubaker opened up an early lead then Southern pulled level at 4-4, and with a bit of good luck Abubaker went 6-4 up, then the rolls started going with Southern as he took the match to hill-hill, and in the last rack escaped from a tricky snooker and fluked the object ball, this give him a chance to run out, but his luck deserted him as his tricky positional shot left him almost touching the 8 ball.  Faced with an almost impossible shot, he left it for Abubaker who took the title.

ce Trophies, Kamui Tips and Magic Rack.After the final Abubaker said of his win "I would like to thank all the staff at the Escape Pool Bar especially George Vetters who made us feel really welcome as always, also thanks to the tournament director Al John.  On a personal note obviously I'm delighted to end the year at no 1, but also winning an Ikon 2 cue worth over £900 kindly provided by our friends at Predator.  In addition to thanking Predator, I would like to also thank all the other sponsors of the tour, Gentlemen's Night Out, Simonis Cloths, Riley's Pool Clubs, Talisman Cases, AB Walla
The Challenge Cup final was won by Welsh, who beat Hendrickson 5-4, but it was Hendrickson who took the overall 2013 challenge top spot, and with it the 'Poison Bolt 3 cue' from tour sponsors Predator cues.
Tony Southern also won a 'Sneaky Pete cue' for his final ranking position.
Roy Kimberley won a 'VX Black Belt Jump Cue' for finishing 3rd
Craig Welsh won a personalised Talisman Case for finishing 4th.
Gary Swift and Fred Dinsmore each won a Poison Case for their 6th and 7th place in the rankings.
A partial video of the main event final is available here, (there were technical issues preventing a full recording of the first 2 racks) pictures of the event will be here in the BWPPA gallery.
Latest BWPPA Rankings.
THE BWPPA EVENT NO.5 (2013 SEASON)
BRITISH 9 BALL CHAMPIONSHIPSOPEN
THE SEMI FINALS
Tony Southern 7 : 5
Roy Kimberley
Aslam Abubaker 7 : 3
Gary Swift
THE FINAL
Tony Southern 6: 7
Aslam Abubaker
THE CHALLENGE CUP
THE FINAL
Craig Welsh  5 : 4
Phil Hendrickson
SEASON REVIEW
Well done to Aslam Abubaker for taking the no 1 ranking in 2013, and winning 3 ranking events (events 3, 4 and 5).

Tony Southern is at no 2 although he is on on the same points as Kimberley, due to the last event results.
Congratulations also to Craig Welsh, who has improved greatly this season to finish at no 4.
We have had some new players this year and hope to continue this trend and see more new players next year as we move to a new base at the Pool Academy at Stoke Mandeville.
The 2014 BWPPA tour is scheduled to commence on 15-16 March 2014 in Stoke Mandeville at our new permanent base there.  We will be hosting 3 events a year there, and also 2 events in Barnsley, back at the Escape Pool Bar.
Best of luck to the BWPPA Team of Roy Kimberley, Tony Southern, Danny Luton, Matt Duffy and Fred Dinsmore at the World Championships.
If you would like to be a part of Europe's largest wheelchair pool tour, and the second largest in the world please keep checking on www.bwppa.com and www.pro9.co.uk .  If you need any more encouragement to join the BWPPA you could represent Great Britain in international tournaments, plus all new BWPPA players enter their first event for free!
All of the BWPPA would like to extend our gratitude to all of our sponsors Predator/Poison Cues, Talisman Billiards, Kamui tips, The Gentlemen's Night Out, Magic Ball Racks, AB Wallace Trophies, Simonis Cloths and Riley's snooker & pool clubs, and the Escape Pool Bar.
We are looking forward to their continued support for 2014 and beyond.
We also are always looking to expand the sponsorship side of the tour, so if you or your company would like to become one of our sponsors, please visit