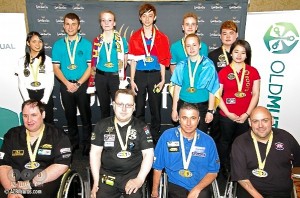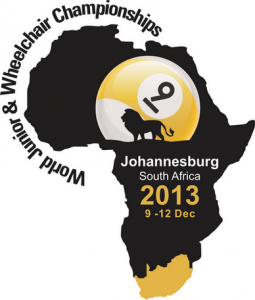 The GB Team consisting of Roy Kimberley, Matt Duffy, Danny Luton and captain Tony Southern, arrived at the Gold Reef City Casino and Theme Park, Johannesburg, South Africa, with high hopes of medals at these prestigious championships, which ran from 8-12 December 2013, it was a surreal atmosphere as we arrived just after the death of Nelson Mandela, and would be in the country right up till the day before his funeral.
High quality matches and dramatic decisions characterize the wheelchair competition, with many outstanding players amongst the 16 man fields, but this time there was no clear favourite, but in the mix as well as all the brits were 3 times gold medalist Jouni Tahti (Finland), double 2013 EPC champion Fred Dinsmore (Ireland), and defending Champion Henrik Larsson (Sweden).
In the 1st round there was the battle of the big guns, as Southern and Dinsmore met in a repeat of the EPC 9-ball final 8 months previously, and it was the same score line as Dinsmore prevailed 7-5.  Duffy also had a tough draw losing 7-4 to Tahti.  Kimberley and Luton had easier draws against 2 novice South African players and won 7-0 and 7-4 respectively.
Another big first round game saw defending champion Larsson lose 7-5 to Kurt Deklerck (Belgium)
In the losers bracket round 1 Southern has a walkover against Bob Calderon (USA) who failed to show after he mixed up the start times.  Duffy had a 7-4 win over Rian Janse Van Densburg (RSA)
In the winners round, Kimberley lost 7-3 to Tahti, and Luton lost 7-6 to Emil Schranz (Austria).
In the losers round 2, Duffy beat Luton 7-4, Southern beat Mark Jones (USA) 7-1, and Kimberley beat Jan Bothma (RSA) by the same score.
Onto the losers round 3 and in a another battle of the brits, Southern beat Duffy 7-4, and Kimberley knocked Larsson out of the event with a 7-5 win.
In the winners qualifying round Dinsmore had a great result, beating Tahti 7/6 (they would meet again !!) to reach the semi-finals.  Deklerck also made the semis, taking out Schranz 7-4.
The losers qualifying were one sided, with Tahti beating Southern 7-2 on the TV table, and Kimberley hammering Schranz 7-1
In the first semi-final Dinsmore edged out Kimberley 7-5 and the in the other semi-final Tahti beat Deklerck by the same score line.
In a rather subdued final, Dinsmore was not his usual self, and was soon 6-1 down, he did pull 2 back, and a chance for a 3rd, but it was not to be as it was Tahti who pounced and won his 4th World Crown.
The championships that were co-hosted alongside the junior and girls' world championships gained lots of media attention throughout the entire 10 days. Media representatives from print and Internet media have covered the Championships. The highlight was the live coverage on the web from www.kozoom.com, of most of the tables.
Once again we would like to give thanks to all our sponsors.
Predator/Poison Cues, Talisman Billiards, Kamui Tips, The Gentlemen's Night Out Charity, Magic Racks, Escape Pool Bar, Wallace Trophies, Simonis Cloths and Riley's snooker & pool clubs.
Results Wheelchair
 

Match

Player

 

Player

Score

1

Rian Janse van Rensburg (RSA)

vs

Roy Kimberley (GBR)

0:7

2

Matt Duffy (GBR)

vs

Jouni Tähti (FIN)

4:7

3

Fred Dinsmore (IRE)

vs

Tony Southern (GBR)

7:5

4

Robert Calderon (USA)

vs

Charlie Hans (USA)

1:7

5

Frederik Rossouw (RSA)

vs

Mark Jones (USA)

2:7

6

Henrik Larsson (SWE)

vs

Kurt Deklerck (BEL)

5:7

7

Emil Schranz (AUT)

vs

Johnny Holland (USA)

7:2

8

Jan Bothma (RSA)

vs

Danny Luton (GBR)

4:7
10 December

Match

Player

 

Player

Score

9

Rian Janse van Rensburg (RSA)

vs

Matt Duffy (GBR)

2:7

10

Tony Southern (GBR)

vs

Robert Calderon (USA)

7:0

11

Frederik Rossouw (RSA)

vs

Henrik Larsson (SWE)

0:7

12

Johnny Holland (USA)

vs

Jan Bothma (RSA)

2:7

 

13

Roy Kimberley (GBR)

vs

Jouni Tähti (FIN)

3:7

14

Fred Dinsmore (IRE)

vs

Charlie Hans (USA)

7:4

15

Mark Jones (USA)

vs

Kurt Deklerck (BEL)

4:7

16

Emil Schranz (AUT)

vs

Danny Luton (GBR)

7:6

 

17

Matt Duffy (GBR)

vs

Danny Luton (GBR)

7:4

18

Tony Southern (GBR)

vs

Mark Jones (USA)

7:1

19

Henrik Larsson (SWE)

vs

Charlie Hans (USA)

7:3

20

Jan Bothma (RSA)

vs

Roy Kimberley (GBR)

1:7
11 December

Match

Player

 

Player

Score

21

Tony Southern (GBR)

vs

Matt Duffy (GBR)

7:4

22

Henrik Larsson (SWE)

vs

Roy Kimberley (GBR)

5:7

 

23

Fred Dinsmore (IRE)

vs

Jouni Tähti (FIN)

7:6

24

Kurt Deklerck (BEL)

vs

Emil Schranz (AUT)

7:4

 

25

Jouni Tähti (FIN)

vs

Tony Southern (GBR)

7:2

26

Emil Schranz (AUT)

vs

Roy Kimberley (GBR)

1:7
12 December

Semi-finals

SF

Fred Dinsmore (IRE)

vs

Roy Kimberley (GBR)

7:5

SF

Kurt Deklerck (BEL)

vs

Jouni Tähti (FIN)

5:7

 

Finals

 

Fred Dinsmore (IRE)

vs

Jouni Tähti (FIN)

3:7