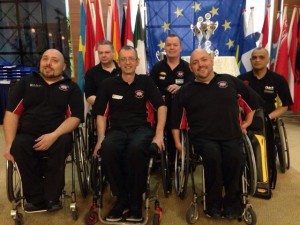 The GB Team consisting of Roy Kimberley, Aslam Abubaker, Craig Welsh, Danny Luton, Matt Duffy and captain Tony Southern, arrived in North Cyprus, with high hopes of winning a hatful of medals at these prestigious championships. 
The team came home with 4 medals, a silver and bronze for Kimberley and a bronze for Southern and Abubaker, but the rest of the team were left disappointed in not making the podium.
Fred Dinsmore from Ireland who also plays occasionally on the BWPPA tour, at one point held all 3 titles after winning the 10 ball title, and ended the event with a medal of each colour, but was just pipped by Jouni Tahti (Finland) as the top player as Jouni took home both the 8 ball and 9 ball gold medals.
 High quality matches and dramatic decisions characterize the wheelchair competition, with many outstanding players across the three disciplines.
10-ball
In the 10-ball division, there was the first of many battles of the Brits, with GB and Ireland, being drawn against each on several occasions
Southern, Kimberley and all made the quarter finals, with Southern knocking out defending champion Kurt Deklerck (Belgium), and Abubaker beating World 9 Ball champion Tahti 7-6, Kimberley had a more routine 6-3 win over Jo Schuler (Germany).
In the first semi final Kimberley face Southern, and was never behind, and it went to the final rack, and a great pressure double put Kimberley through to the final where he would face Dinsmore who had a 6-4 win over Abubaker.
In the final, Kimberley had nothing left to give and he missed out on a 3rd EPC gold medal, with a thumping 6-0 defeat.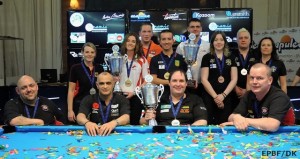 8-Ball
In the 8 ball Division, it was disappointment almost all around for team GB, with only Craig Welsh making the knockout stages, and he lost 5-2 to Deklerck.
9-Ball
Onto the final discipline, 9 ball, and there was time to celebrate again as Southern, Kimerley and Duffy made it to the quarter finals
Duffy lost a hill-hill match to Dinsmore that he willnever forget, as he missed an easy 3-ball finish to win.
Southern was whitewashed 7-0 by Tahti, and described it as his worst performance in almost 30 years of cue sportsKimberley was left as the only brit in the semi-finls, but he was again on the end of a heavy defeat by Dinsmore, who won 7-2, but lost 7-5 to Tahti in the final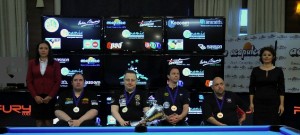 The Dynamic European Championships have drawn a huge amount of media attention throughout the entire 10 days. Many media representatives from TV, radio, print and Internet media have covered the European Championships. The highlight was the live coverage on the web from www.kozoom.com.
In 2014 the event is scheduled to be held in Portugal