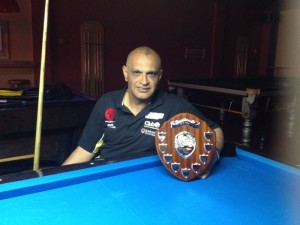 After a successful start to the 2014 season at the fantastic 'BWPPA/BWCSA Pool Academy' at Stoke Mandeville, it was back to one of our favourite venues, as the Escape Pool Bar in Barnsley host
ed the 2nd BWPPA event of the season on 17/18 May 2014.
Aslam Abubaker extended his lead at the top of the rankings from Tony Southern, as he won his fourth event out of five on the BWPPA tour.
Both players had been the dominant forces on the tour recently, with both contesting the last 2 finals, with 1 win each, and it was to be no different this time, as they again clashed the final, although they both made it to the final the hard way through the losers side, after suffering early losses in this double elimination format.
There was decent field of 15 players, including Fred Dinsmore (Ireland), again showing his support for the tour by making the long trip from Dublin. Although he is unable to make every event, due to the costs involved, he adds the qualities of a multiple European and World Champion to the event, as an unseeded player, is a dangerous floater for any of the 4 seeds to avoid at any stage, in particular early on in the event.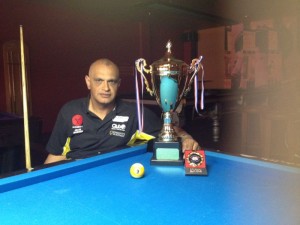 It could have been an even better turn out as several tour regulars such as Matt Duffy, John Greensmith, Pete Dawson and Danny Luton were absent. All the players wish Matt, John and Pete a speedy recovery from their illness.
As Abubaker was the no. 1 seed, he received a first round bye, but that was as good as it got in the early stages, as he drew Dinsmore in the 2nd round and lost a closely fought match 7-5 to enter the losers bracket.
To get back into the semi-finals Abubaker had to win 3 matches on the loser's side, and he did so beating Frankie Gillen (7-1), Craig Welsh (7-4) and Shaun Madin (7-2).
In the other half of the draw, Southern had a 7-1 win over Gillen and then lost a close match to the ever improving Shaun Madin 7-5, Madin then lost 7-3 to Roy Kimberley who progress to the semi finals.
In the losers side Southern beat Gary Nicholson 7-3, Arnie Chan 7-5, before a hill-hill 7-6 win over Phil Hendrickson took him into the semi-finals.
In a random draw for the semi finals, it matched Southern versus Dinsmore, and it was Southern who took it 7-4 in a scrappy match.
In the other semi-final it was Kimberley versus old adversary Abubaker and it was Abubaker who advanced into the final with a 7-3 score line.
So the final was the 3rd in a row that Southern and Abubaker had contested, but it was far from a classic match, both players making unusual errors, it was level at 2-2, and Abubaker started to capitialse on Southern's mistakes to open up a 6-3 lead. Southern took the next to narrow the gap, but Abubaker took the match as Southern conceded a straight 9 ball.
Although Abubaker is well ahead in the rankings, as it's a best 4 out of 5 ranking system, only this seasons results count at the end of the season and with 1 win and a final each, both players are provisionally tied going into event 3.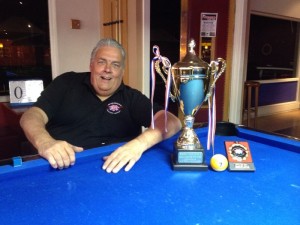 The Challenge Cup final was won by Gary Nicholson who beat Shaun Madin 5-1, to continue his fine form on his return to wheelchair cue sports.
A video of the main event final is available here. Pictures of the event will be here in the BWPPA gallery soon.
The next event is the Talisman British Wheelchair 10 Ball Championship Shootout, which will be held at the BWPPA/BWCSA 'Pool Academy' at Stoke Mandeville o
n the weekend of 19th/20th July 2014.
The BWPPA are always looking for new members no matter what disability you have, or your level of ability in the sport. To become part of Europe's largest wheelchair American pool tour please visit www.bwppa.com , and if you are reading this and know of any players who may be interested please pass this onto them.
We also are always looking to expand the sponsorship side of the tour, so if you or your company would like to become one of our sponsors, please visit
Once again we would like to extend our thanks to our sponsors, The Gentlemen's Night Out, Simonis Cloths, Predator/Poison Cues, Talisman Billiards, Kamui tips, Magic Racks, Escape Pool Bar, AB Wallace Trophies, and Riley's snooker & pool clubs.
THE STATS
BWPPA EVENT NO.2 (2014 SEASON)
THE MAIN EVENT
THE SEMI FINALS
Fred Dinsmore 4 : 7 Tony Southern
Roy Kimberley 3 : 7 Aslam Abubaker
THE FINAL
Tony Southern 4 : 7 Aslam Abubaker
THE CHALLENGE CUP
THE SEMI FINALS
Frankie Gillen 2 : 5 Shaun Madin
Nicky Oliver   3 : 5 Gary Nicholson
THE FINAL
Shaun Madin1 : 5 Gary Nicholson