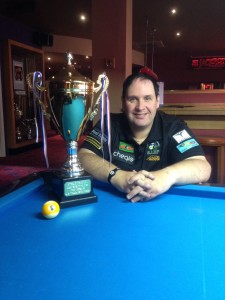 Escape Pool Bar in Barnsley was the venue for the 4th BWPPA event of the season on 5/6 September 2015.
Ireland's Fred Dinsmore won his 2nd tour event in a row beating Aslam Abubaker in the final.
Dinsmore went into the event as one of 3 players still in realistic contention for the no.1 spot at the end of the season, which not only brings with it its own prestige but also a cue from our generous friends at Predator.
After the first round Dinsmore got his campaign off to a good start with a hard fought 7-5 win over Daniel Lee, and then he went into battle with old foe Roy Kimberley and beat him 7-4.
In the semi-final he faced Tony Southern, the Irishman raced through the match with a 7-3 win for a place in yet another BWPPA Main Event final.
In the other half of the draw: Aslam Abubaker won his first match 7-1 v Danny Luton. He then beat Southern in a hill-hill decider to advance to the semi-finals.
In the semi-final he faced Kimberley, and raced to a 7-2 win to get through to a repeat of the Talisman British 10-ball Championship final.
It looked like it would be a one sided affair, as Dinsmore roared into 4-0 lead, but in a weekend of tough games Abubaker demonstrated the qualities that have helped him to the top end of the rankings as he dragged himself back into the match, reeling off 3 racks in succession. Abubaker then had a great chance to level but it was not to be as Dinsmore played really well to take it 7-4.
After the final Dinsmore said of his win "I would like to thank George Vetters and all the staff at the Escape Pool Bar, we are always made welcome, and I'm delighted to be winning events and putting myself in prime contention for the no.1 position.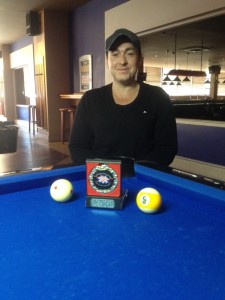 The Challenge Cup final was won by Daniel Lee who beat Nicky Oliver 5-4, after Oliver was 4-1 ahead.
Oliver had a great weekend including a 5-4 win over double wheelchair world 8-ball champion Dave Beaumont.
Also Alexander Prokopiev came again from Russia and had a 7-6 win over Oliver and a good win over Matt Lester, before losing to Southern and Luton respectively, all of BWPPA congratulate Alexander on his efforts.
A video of the main event final is available here. Pictures of the event can be found in the BWPPA gallery.
Latest Ranking list.
The season concludes with the Predator British 9-ball Championships, which will be held at the BWSCA/BWPPA Pool Academy, on the weekend of 14th/15th November 2015.
Dinsmore and Southern are now the only players who can claim top spot, although Southern has to win the event to take the crown.
The BWPPA are always looking for new members no matter what disability you have, or your level of ability in the sport. If you would like to be a part of Worlds' largest wheelchair pool tour, please keep checking on www.bwppa.com and www.pro9.co.uk. If you need any more encouragement to join the BWPPA, you could represent Great Britain in international tournaments, plus all new BWPPA players enter their first event for free!
If you are reading this and know of any players who may be interested please pass this onto them.
All of the BWPPA would like to extend our gratitude to all of our sponsors:
The Gentlemen's Night Out, Simonis Cloths, Predator/Poison Cues, Talisman Billiards, Kamui tips, Aramith Balls, Magic Racks, Escape Pool Bar, AB Wallace Trophies, and Riley's snooker & pool clubs.
We also are always looking to expand the sponsorship side of the tour, so if you or your company would like to become one of our sponsors, please visit our contact us page.
THE STATS
      BWPPA EVENT NO.4 (2015 SEASON)

                         

THE MAIN EVENT

THE SEMI FINALS

Aslam Abubaker

7 : 2

Roy Kimberley

Fred Dinsmore

7 : 3

Tony Southern

THE FINAL

Fred Dinsmore

7 : 4

Aslam Abubaker
THE CHALLENGE CUP

THE FINAL

Nicky Oliver

4 : 5

Daniel Lee