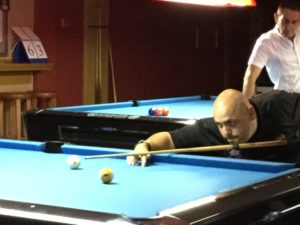 Escape Pool Bar in Barnsley was the venue for the penultimate BWPPA event of the season on 10/11 September 2016, the Kamui 9-ball Shootout.
Birmingham's Roy Kimberley won his first main event on the tour in over 3 years beating Midlands rival Aslam Abubaker in the final.
Going into the event Daniel Lee and Fred Dinsmore seemed the only players still in realistic contention for the no.1 spot at the end of the season, which not only brings with it its own prestige but also a cue from our generous friends at Predator. Only some unusual results against the formbook could change that!
After a first round bye, Kimberley got his campaign off to a good start with a hard fought 7-4 win over Challenge Cup Rankings Leader Nicky Oliver, and then he went into battle with old foe Abubaker who beat him 7-4.
This sent Kimberley to the losers' bracket where he had a 7-4 win over Danny Luton.
In the semi-final he faced Tony Southern, and in a closely fought match, he played the better safety of the 2 to take a 7-5 win for a place in the final.
In the other half of the draw, current no. 1 Lee won his first match 7-3 v Luton. He then lost to Southern 7-4 to go over to the loser's side, where he became only the 2nd player in the tours history to deny Fred Dinsmore a place in the semi-finals.
In the semi-final he faced Abubaker, and it was Abubaker who benefited from a crucial fluke late on to advance to the final with a 7-5 win.
The final was a rather one-sided affair, with Abubaker not at his usual level, this combined with flawless positional play from Kimberley, enabled him to take it 7-3.
After the final Kimberley said of his win "I would like to thank George Vetters and all the staff at the Escape Pool Bar, we are always made welcome, and I'm delighted to back winning events.
This result puts the cat amongst the pigeons in the rankings going into the final event of the season in November, with Kimberley now in the mix, but the combinations are complex!!
For Lee the equation is simple make the final, or if not finish better in the event than both Dinsmore and Kimberley.
Dinsmore or Kimberley have to win the event and hope Lee does not make the final to take the top spot on count back, it will be certainly be an exciting climax to the season!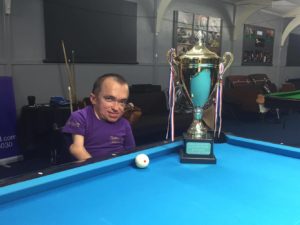 The Challenge Cup final was won by Nicky Oliver who beat Darren Taylor 5-2. This was Oliver's 2nd win a row and he is now odds-on to top the challenge rankings.
A video of the main event final is available here. Pictures of the event can be found here in the BWPPA gallery.
Latest Ranking list.
The season concludes with the Predator British 9-ball Championships, which will be held at the BWSCA/BWPPA Pool Academy, on the weekend of 19th/20th November 2015. 'Big' Dave Knight from www.pro9.co.uk will also be in attendance with a selection of goods from his pro shop, and his lathe to do any re-tipping required, all at great rates.
In the run up to this event, we will also be emailing and posting a 'BWPPA information pack' out soon to many groups, organisations and individuals to spread the word about the tour, please pass on this information to all your friends and colleague with an interest in wheelchair pool. It will also be available on our website www.bwppa.com and on our Facebook page, and you can also follow the tour on Twitter at @BWPPA.
Some more great news for the tour
Next BWPPA fundraiser Euro Lotto draw will be 5 personalised signed photos of non other than Blackpool's own Mosconi Cup & Sky Sports Glamour Walk On Girl 'Jade Slusarczyk'
You can find full details here.
Jade has also kindly agreed to be a supporter of BWPPA and will help with raising our profile and with future fundraising.
You can connect with Jade on Facebook and also follow her career on twitter at @Miss_Poulton.
In what could be the biggest ever coup for the tour, the original lady ref, Michaela Tabb has agreed to take part in 'Who's Calling Christian' on Absolute Radio from 26th September for 2 weeks, in which she could win £10k for the tour.
Full details of how to vote for Michaela and help the tour win the money are here, and voting begins on the 10th October. Good luck to Michaela.
Both Michaela and Jade and will shortly feature on a new celebrity supporters section on our website www.bwppa.com.
If you would like to be a part of worlds' largest wheelchair pool tour, please keep checking on www.bwppa.com and www.pro9.co.uk. If you need any more encouragement to join the BWPPA, you could represent Great Britain in international tournaments.
All of the BWPPA would like to extend our gratitude to all of our sponsors:
The Gentlemen's Night Out, Simonis Cloths, Predator/Poison Cues, Talisman Billiards, Kamui tips, Aramith Balls, Cheqio, Gosport Pool Arena, Magic Racks, Escape Pool Bar and AB Wallace Trophies.
We also are always looking to expand the sponsorship side of the tour, so if you or your company would like to become one of our sponsors, please visit our contact us page.
EVENT STATS
THE BWPPA EVENT NO.4 (2016)

THE MAIN TOURNAMENT

THE SEMI FINALS

Roy Kimberley

7 : 5

Tony Southern

Daniel Lee

5 : 7

Aslam Abubaker

THE FINAL

Roy Kimberley

7 : 3

Aslam Abubaker
THE CHALLENGE CUP TOURNAMENT

THE FINAL

Nicky Oliver

5 : 2

Darren Taylor